Unable to Process Transaction because of Missing Verification Page
Options
Mark as New

Bookmark

Subscribe

Mute
Good morning/evening/afternoon,
I "recently" setup a paypal account and got an invoice back that was paid, and when I went to accept it, it brought me to this page: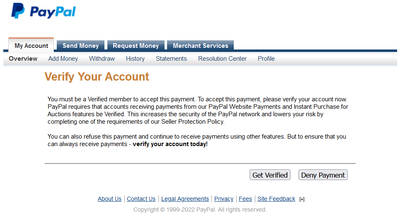 https://www.paypal.com/cgi-bin/webscr?cmd=_account-accept-deny&info=oBrzcLTkHRzMypYD7FLwqr92_6TdXEHi...
I clicked the <Get Verified> button and was sent to a deleted page:
https://www.paypal.com/us/webapps/mpp/page-not-found
I have no idea what paypal needs as it just its having it.
Login to Me Too
Options
Mark as New

Bookmark

Subscribe

Mute
Haven't Found your Answer?
It happens. Hit the "Login to Ask the community" button to create a question for the PayPal community.