Options
Mark as New

Bookmark

Subscribe

Mute
my transaction was declined to "comply with international regulations".what can i do ?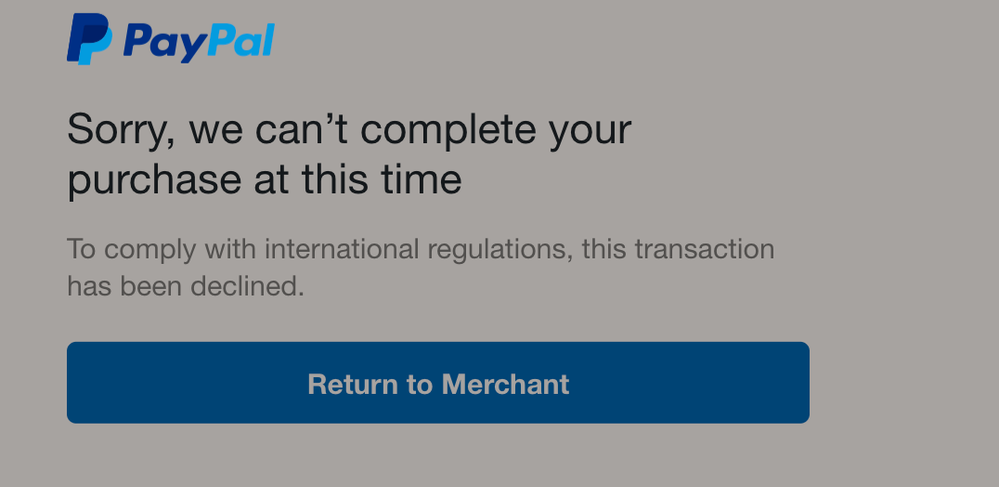 Login to Me Too
1 ACCEPTED SOLUTION
Options
Mark as New

Bookmark

Subscribe

Mute
Hello @catt231, @KatieW55, and everyone else,
Welcome to the PayPal Community! I'm sorry to hear you're running into some issues receiving funds through PayPal. From time to time, PayPal may need to some time to review transactions to ensure that the transactions are compliant. If PayPal needs further information from you regarding the payment, you may receive a request via email.
If you're still running into issues sending or receiving funds, and you haven't received any updates via email, please reach out to our Customer Support teams by clicking "Contact" at the bottom of any PayPal page.
Best wishes,
- Jon K

If you find this or any other post was helpful, make our community better by giving kudos or accepting it as a solution.
Login to Me Too
Haven't Found your Answer?
It happens. Hit the "Login to Ask the community" button to create a question for the PayPal community.