Options
Mark as New

Bookmark

Subscribe

Mute
Hello,
I'm currently a seller on Grailed which is somewhat like eBay but for streetwear. My funds are currently on hold due to fluctuating selling patterns selling items that are low priced then highly-priced. I have over $700+ on hold and I've notified my buyers to confirm the package delivery through the receipts or payment summary. Oddly enough 1 out of the two buyers cannot find the confirm button even through deeply explained instructions from me and Paypal. So, he called PayPal and PayPal told him for me to contact PayPal to release my funds. However, from recent experience, contacting Paypal becomes more of a repetitious cycle. I've contacted them through the message system and always ended up with instructions for the buyer to release funds. But in this case, both of my buyers are unavailable to do it. Now, about my other buyer, he has stopped replying to my messages about releasing the funds. What can I do, at this point, to release my funds? If nothing works, will my funds eventually release?
Note: All items have been delivered and evident through shipping labels pre-paid/printed from PayPal itself.
Thanks.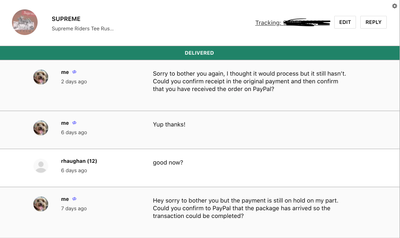 Login to Me Too
1 ACCEPTED SOLUTION
Options
Mark as New

Bookmark

Subscribe

Mute
Options
Mark as New

Bookmark

Subscribe

Mute
Haven't Found your Answer?
It happens. Hit the "Login to Ask the community" button to create a question for the PayPal community.